Overview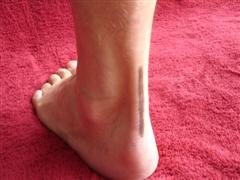 Achilles Tendinitis is a painful condition. Running and walking are made possible by the Achilles tendon, which attaches the calf muscle to the heel bone. Strenuous exercise, jumping, and climbing are all movements that can strain the tendon and calf muscles, causing an inflammation known as tendinitis. The injury to the Achilles can be mild, requiring only rest and over-the-counter anti-inflammatory drugs, or severe, necessitating surgical repair of the damaged tendon. Chronic Achilles tendinitis can lead to micro tears in the tissue (tendinosis), which weaken the tendon and put it at risk for severe damage such as a tear or rupture.
Causes
Sometimes Achilles Tendinitis is a result of sudden trauma, as you might encounter from playing sports, but you can also have Achilles tendon pain as a result of small, unnoticed, day-to-day irritations that inflame the tendon over time by a cumulative effect. In those with no history of trauma, Achilles Tendonitis is sometimes associated simply with long periods of standing. There are several factors that can cause the gradual development of Achilles Tendinitis. Improper shoe selection, particularly using high heels over many years, increases your odds of developing the condition. This is because high-heeled shoes cause your calf muscles to contract, leaving the tendon with a lot less slack in it. Inadequate stretching before engaging in athletic or other physically-demanding activities also predisposes you to develop the problem. This is especially true in "weekend athletes", individuals who tend to partake in excessive physical activities on an intermittent basis. Biomechanical abnormalities like excessive pronation (too much flattening of the arch) also tends to cause this condition. And it is much more common individuals with equinus. It is more common in the middle-aged, the out-of-shape, smokers, and in those who use steroids. Men get the condition more frequently than women. Those involved in jumping and high-impact sports are particularly vulnerable.
Symptoms
Common symptoms of Achilles tendinitis include weakness in the leg, slight pain above the heel in the lower leg after activity, feeling of stiffness in the leg that usually appears in the morning and lessens throughout the day, bad pain the day after exercising, pain as you climb stairs or go uphill, swelling in the area of the Achilles tendon, creaking or cracking noise when you press on the Achilles tendon.
Diagnosis
X-rays are usually normal in patients with Achilles tendonitis, but are performed to evaluate for other possible conditions. Occasionally, an MRI is needed to evaluate a patient for tears within the tendon. If there is a thought of surgical treatment an MRI may be helpful for preoperative evaluation and planning.
Nonsurgical Treatment
There is insufficient evidence from randomised controlled trials to determine which method of treatment is the most appropriate for the treatment of acute or chronic Achilles tendonitis. The patient should abstain from aggravating activities, but with a minimum of rest in order to preserve overall fitness. Possible treatments are non-steroidal anti-inflammatory drugs (NSAIDs), ice, rest, increased warm-up/stretching exercises, physiotherapy and heel lifts (orthotic devices - used on both sides to prevent a gait imbalance). Other treatments evaluated in a Cochrane review were heparin, steroid injections, glyغير مجاز مي باشدaminoglycan sulfate, Actovegin?, and topical laser treatment. There was no clear evidence of benefit from these. Casting is an option for resistant Achilles tendonitis. Drugs - analgesics and NSAIDs. Surgery is sometimes used for resistant Achilles tendonitis, but usually as a last resort. Other recently reported treatments include continuing sporting activity in conjunction with rehabilitation, low-energy shock wave therapy[4] and topical glyceryl trinitrate .
Surgical Treatment
Many people don't realize that Achilles tendon surgery can be very traumatic to your body. The type of trauma you experience after surgery can be compared to what you go through when you first injured your Achilles tendon. During the first 24 to 72 hours after the surgery your ankle will be tender, swollen and very painful. Your leg will be weak and unstable making it impossible for you to put weight on your leg without some kind of help. This is why your doctor or surgeon will have you outfitted for a cast, ankle brace and/or crutches before the procedure. When you are relying on a cast/brace and crutches your Achilles tendon is less likely to be as active as it once was. This is usually why atrophy (loss) of your lower leg muscles (specifically your calf muscle) happens. In general, more than 80%* of people who undergo surgery for an injured Achilles Tendon are able to return to their active lifestyle. In order to avoid re-injury, it is important to commit to a regular conservative therapy routine.
Prevention
So what are some of the things you can do to help prevent Achilles Tendinitis? Warm Up properly: A good warm up is essential in getting the body ready for any activity. A well structured warm up will prepare your heart, lungs, muscles, joints and your mind for strenuous activity. Balancing Exercises, Any activity that challenges your ability to balance, and keep your balance, will help what's called proprioception, your body's ability to know where its limbs are at any given time. Plyometric Training, Plyometric drills include jumping, skipping, bounding, and hopping type activities. These explosive types of exercises help to condition and prepare the muscles, tendons and ligaments in the lower leg and ankle joint. Footwear, Be aware of the importance of good footwear. A good pair of shoes will help to keep your ankles stable, provide adequate cushioning, and support your foot pain and swelling [
ugliestentrails62.exteen.com
] and lower leg during the running or walking motion. Cool Down properly, Just as important as warming up, a proper cool down will not only help speed recovery, but gives your body time to make the transition from exercise to rest. Rest, as most cases of Achilles tendinitis are caused by overuse, rest is probably the single biggest factor in preventing Achilles injury. Avoid over training, get plenty of rest; and prevent Achilles tendinitis.
برچسب:
foot pain identifier
،
foot pain diagram
،
foot pain burning
،
ادامه مطلب
امتیاز:
بازدید:
+
نوشته شده:
۱۰ مرداد ۱۳۹۶
ساعت:
۰۶:۲۹:۳۵
توسط:Fredrick Macnaghten موضوع: